Purcell Cellist Wins Gregynog Young Musician of the Year
Our heartfelt congratulations to Year 13 cellist Iván who on Saturday 11th November won the Gregynog Young Musician of the Year competition. In addition to taking the overall prize, Iván also won the String section award.
All at Purcell are thrilled for him. Hugely well done, Iván.
Iván studies at Purcell under Richard Jenkinson.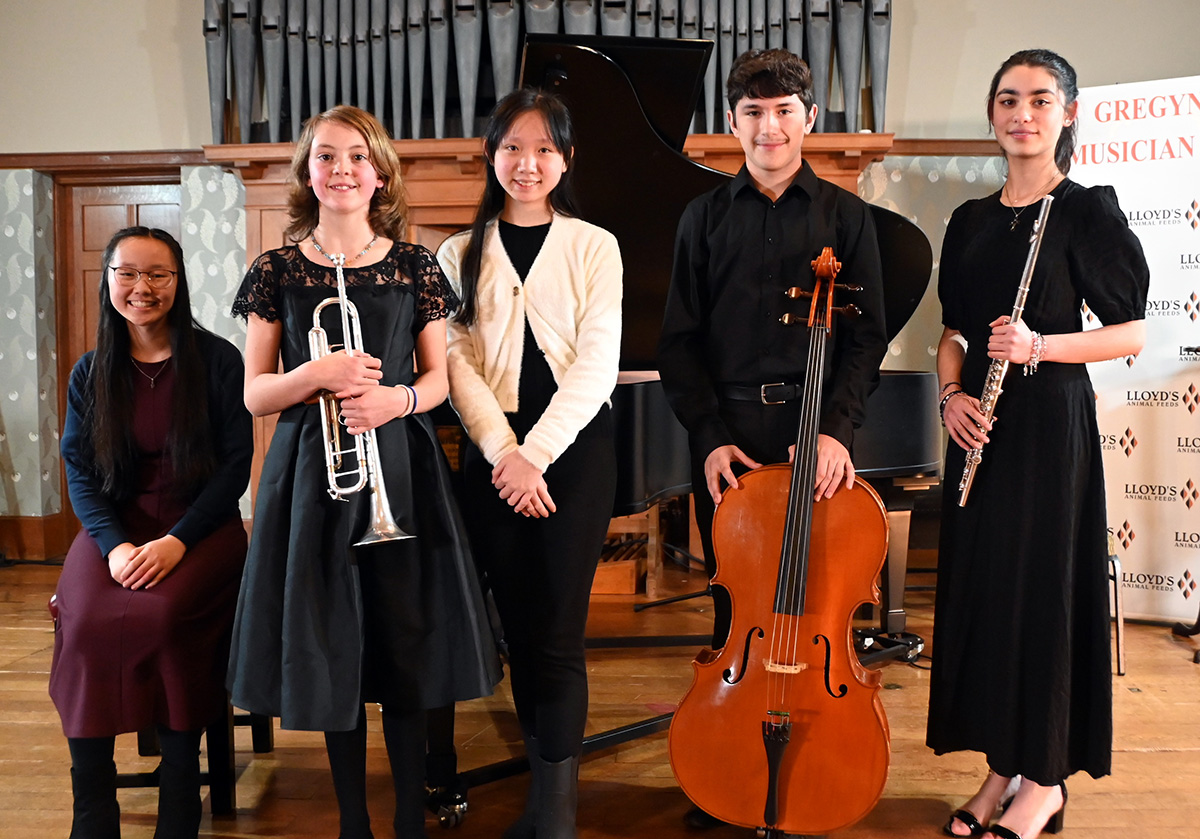 Purcell Clarinettist Performs with ESO
Following a previous Weekly Highlights feature, we were pleased to hear that Year 11 clarinettist Marina had also joined Year 11 trumpeter Rhys on the recent English Schools Orchestra's (ESO) residential course at Mount Grace School, Potters Bar. The Course culminated in a concert at London's Cadogan Hall, with Marina playing lead clarinet in Elgar's Symphony No 1 in Ab. Well done, Marina.

Eric Crees Brass Masterclass
On Monday 6th November, students in the Brass Department were treated to a rehearsal-workshop with acclaimed trombonist, composer, arranger, conductor, and Professor at the Guildhall School of Music and Drama, Eric Crees.
Eric spent 27 years as Co-Principal Trombone in the London Symphony Orchestra before moving to be Principal Trombone in the Orchestra of the Royal Opera House. He is the founder-director of Symphonic Brass of London, and he has played on hundreds of films, including several 'Star Wars' soundtracks, 'Raiders of the Lost Arc', and three 'Harry Potter' films.
Eric took The Purcell School's brass players through the mechanics of brass playing, going into considerable detail about the physiology of brass instrument playing, ensuring that the students have a solid understanding of how they make (and control) their sound. He demonstrated several physical routines, and challenged the players to analyse their sound at all times, giving them a taste of what it is like to work at the highest levels in an ensemble setting.
We are delighted that Eric will be back with us later in the year, to conduct the brass students in concert.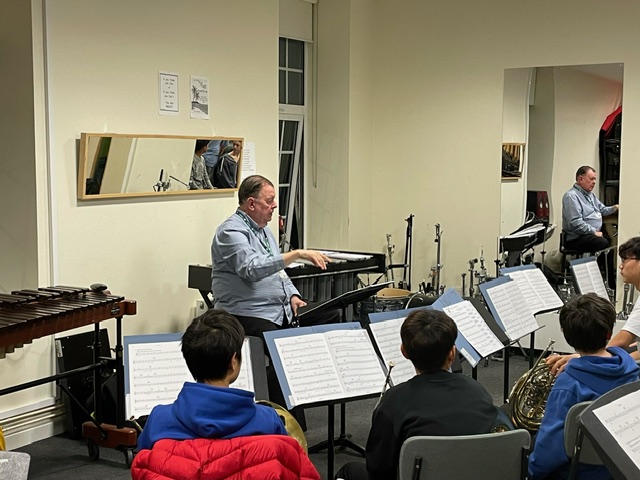 Timothy Lines Clarinet Masterclass
On Thursday 16th November, students of the woodwind department were treated to a clarinet masterclass with Royal College of Music and Royal Academy of Music Clarinet Professor, Timothy Lines.
Timothy joined Purcell clarinet teacher Stephen Williams and four Purcell clarinet players in an intimate afternoon of inspiring music.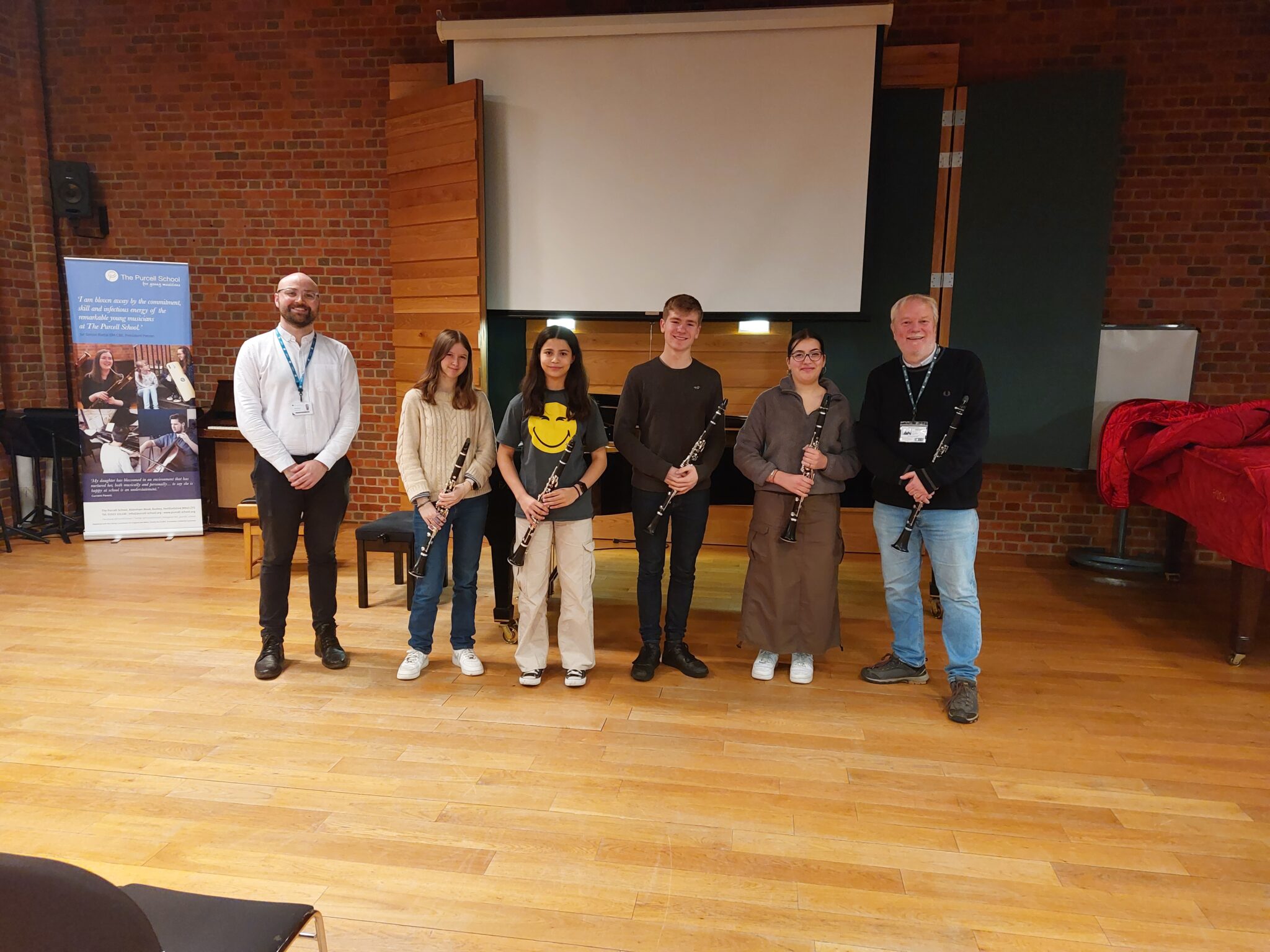 Odd Sock Day
Monday 13th November marked the beginning of Anti-bullying week, with assemblies and tutorials taking place in School to raise awareness of bullying and discrimination. The day also marked Odd Sock Day, with students and staff of Purcell joining millions of people worldwide in wearing the oddest of socks to school and in doing so celebrating all that makes us unique and demonstrating that it is ok for each of us to be different. Our particular thanks to the students of Year 7 who offered up their odd socks for the following photo.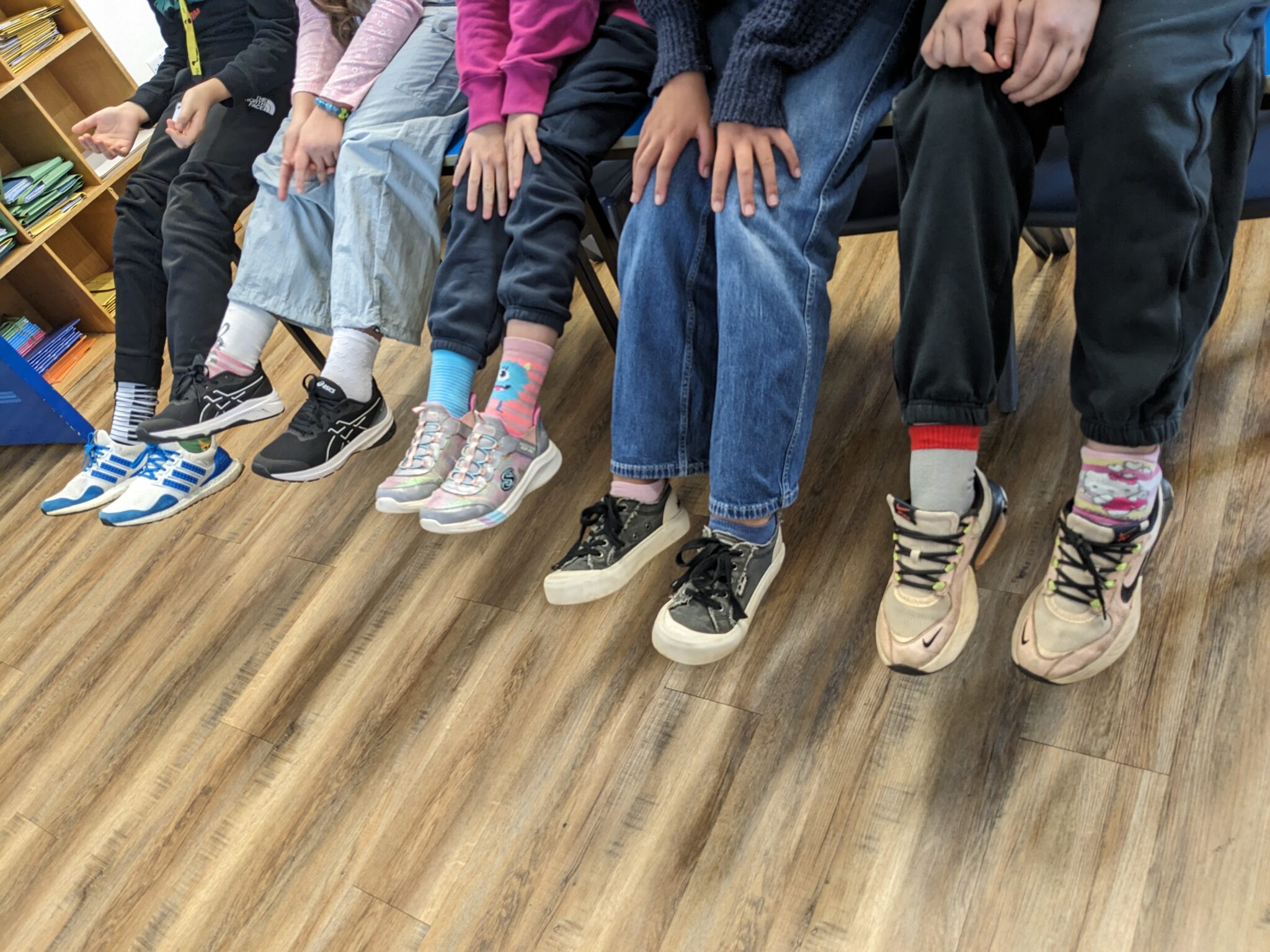 Article Publication in Academic Journal
We were delighted to hear earlier this week that an article from one of our teachers of academic music, Alberto Martin Entrialgo, has been published in the latest issue of Music & Letters. The article, entitled 'Borrowing from the Past: Scarlattian Phrase Structure, Type 2 Sonatas, and Phrygian Tonality in Isaac Albéniz's Works', explores the relationship between Albéniz and Scarlatti from historical, and, most fundamentally, analytical and theoretical perspectives.
The article is accessible here to those who have a subscription to the journal and will become open to all in the near future.
Our congratulations!

Concerts Department Highlights
This week our jazz department performed at the Bushey United Synagogue, while at Purcell we enjoyed a Songwriters' Gig, a Middle School Concert and four lunchtime concerts.
Well done to all performers for their outstanding playing: Ruby, Mahla, Julianna, Otto, Lucas, Seth, Angelica, Elliot, Megan, Louis, Jacob, Jack, Samuel, Cole, Keir, Albert, Ramona, Clementine, Oscar, Clara, Alex, Arabella, Adi, Lilly, Ali, Mahla, Jacob, Nathaniel, Rhys, Johnathan, Begum, Yakub, Yeju, Tristan, Pijus, Marina, Joshua, Ruby, April, Yulin, Katrina, Yu-Wei, Rocco, Farrah, Jiahao, Birce, Lorenzo, Lavender, Rina, Isabella, Chaeyu and Michael.

Woodwind Accelerate Afternoon
We are delighted to be hosting another Woodwind Accelerate Afternoon on Sunday 3rd December from 2pm to 5pm.
The event is open to all Woodwind players of Grade 3 standard and above, and is a fantastic opportunity for young wind players to explore aspects of solo performance, technique and chamber music with Purcell's music tutors.
To register for the Woodwind Accelerate Afternoon, please complete the form on our website here which will confirm your place. Further information will be sent to the registered email address in the week before the event.

Forthcoming Events
In addition to those highlighted events below, please visit our new online Concerts and Events Guide here.
---
Monday 20th November – Purcell Symphony Orchestra at St John's Smith Square
Time: 7.30pm
Venue: St John's Smith Square, Smith Square, London SW1P 3HA, UK
Tickets: Tickets are £5 to £20 and available to purchase here
Performers:
Purcell School Symphony Orchestra
Paul Mann, Conductor
Hana McDowell, Violin
Ekaterina Chunikhina, Oboe
Programme:
Laila Arafah – Slacktide, Warbling (Purcell Parallels, WP)
Daniel Fardon – August Tune: Running Music (Purcell Parallels, WP)
Bartók – Violin Rhapsody No 1
Martinu – Oboe Concerto
Brahms, arr. Robin Holloway – Symphony in F minor
---
Tuesday 21st November – Purcell Symphony Orchestra at Royal Birmingham Conservatoire
Time: 1.05pm
Venue: Bradshaw Hall, Royal Birmingham Conservatoire, 200 Jennens Rd, Birmingham B4 7XR, UK
Tickets: Free admission. Booking, however, is required. Please book here.
Performers:
Purcell School Symphony Orchestra

Programme:
Laila Arafah – Slacktide, Warbling (Purcell Parallels, WP)
Daniel Fardon – August Tune: Running Music (Purcell Parallels, WP)
Brahms, arr. Robin Holloway – Symphony in F minor
---
Wednesday 29th November – Wigmore Hall
Time: 7.30pm
Venue: Wigmore Hall, 36 Wigmore Street, London W1U 2BP
Tickets: £18 and available here.
There is always much excitement for our annual soloists' concert at Wigmore Hall! An astonishing proportion of students audition for the opportunity to perform and an external adjudicator has the difficult task of selecting the final programme. This concert is definitely not one to miss.
Programme:
Rebecca Clarke – Viola Sonata, I. Impetuoso
York Bowen – Flute Sonata Op. 120, I. Allegro non troppo
Martinů – Sonatina for Clarinet and Piano H. 356
Kodály – Duo for Violin and Cello Op. 7, I. Allegro serioso, non troppo
Eric Sammut – Libertango
Nebojša Živković – Ilijaš
Debussy – Étude No.11
Toru Takemitsu – Rain Tree Sketch No.2
Ravel – Jeux D'Eau
Fauré– Nocturne
Liszt – Vallée d'Obermamm from Années de Pélerinage
Liszt – Concert Étude S.144 No.2
Performers:
Mina, Suanoi, Birce, Dominic, Lindsey, Ali, Nancy and Grace