Welcome to the latest edition of Purcell's Weekly Highlights!

UK Mathematics Trust News
The Maths Department is delighted to announce that JiHyo (Year 11) has been awarded a Certificate of Distinction from the UK Mathematics Trust following her paper submission for McLaurin Maths Competition.
This puts her in the top 20% of the 600 or so students that were invited to participate in the UK wide competition. It's the strongest performance in a maths competition we have ever seen at The Purcell School!
We are all very proud of JiHyo's success and achievements in maths and we look forward to seeing how she does in future years.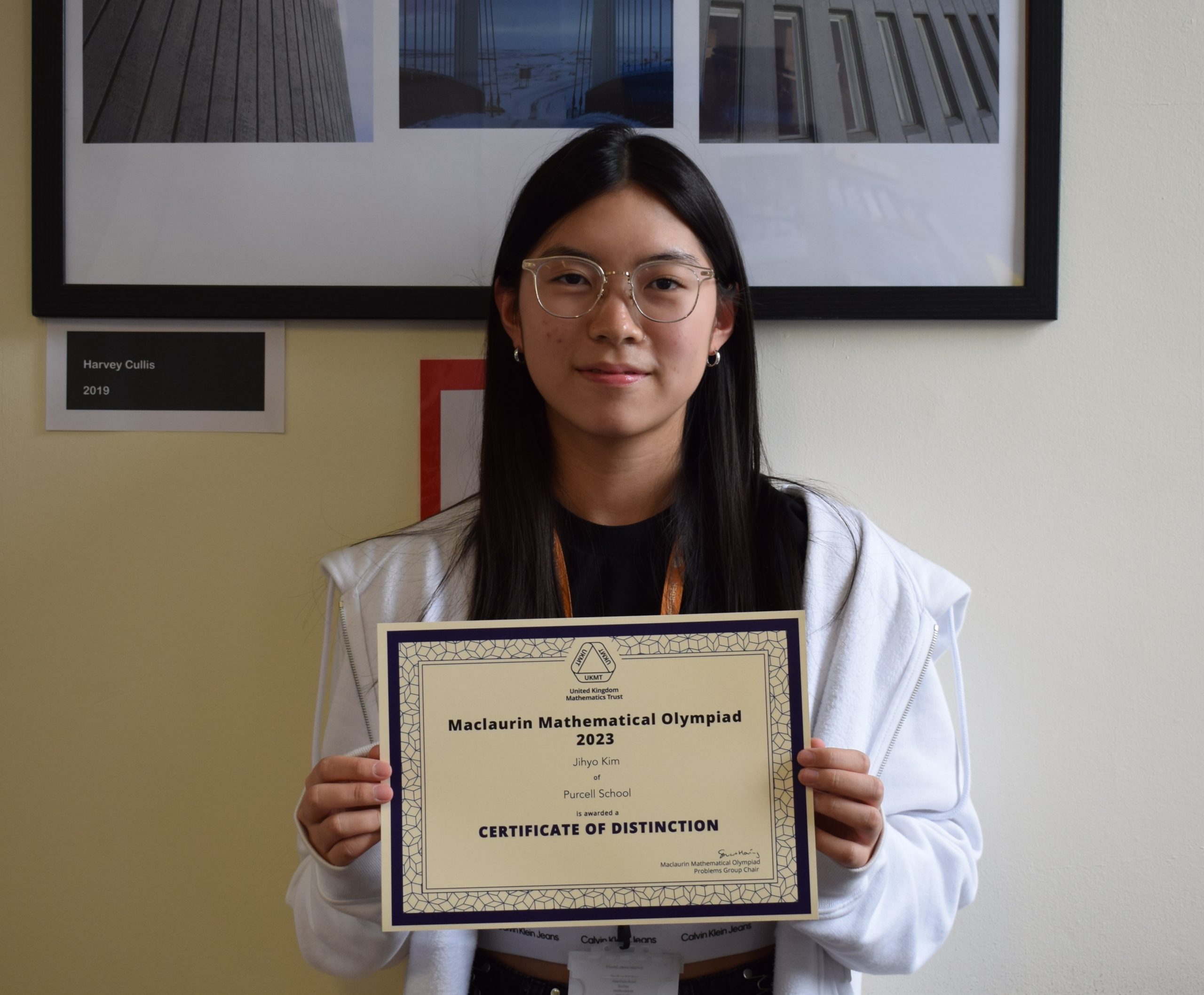 North London Music Festival
It was wonderful to hear that two Purcell students took part and triumphed in the recent North London Music Festival. Year 8 pianist Kevin won First Prize in the Recital category playing Beethoven and Scarlatti. This feat was made even more impressive by the merit of it being an 'any age' class which saw Kevin compete against candidates including conservatoire students. Year 9 pianist Celeste also attended the festival and received Distinctions for the two classes she competed in. Congratulations to both Kevin and Celeste on these fantastic achievements.

Orbetello International Piano Competition
In more piano news, Year 12 pianist Herman won First Prize in his age category (Category C) at the Orbetello International Piano Competition in Italy. Well done, Herman.

Purcell Students Perform with Chineke! Orchestra
A huge well done to Maya-Ashanti (Year 9), Kutay (Year 8), Danya (Year 12) and Louis (Year 12) for their outstanding performance on Sunday 30th April with Chineke! Orchestra, celebrating the life of Harvey Parker. The memorial concert was a sold out, star-studded event at Queen Elizabeth Hall, with special guests including Sheku Kanneh-Mason, Olly Alexander, Chineke! Orchestra and Clean Bandit.
Congratulations to all who performed for the benefit of 'Love In Mind' and The Harvey Parker trust, supporting the mental health of young creatives.

Young Songwriter of the Year 2023 Competition
We are excited for Year 11 composition student Cole whose original song 'Just You and Me' has just made it into the Top 30 of the Young Songwriter of the Year 2023 Competition! Cole's song, which is a duet and features vocals from Year 12 singer Jess, can be listened to on the Song Academy's Soundcloud here.
The Song Academy's annual competition, now in its 13th year, attracted around 1,000 high quality entries from aspiring young songwriters aged 8-18 across the world. The top 10 finalists will be announced on 12th May. We wish Cole the very best of luck!

Florian Mitrea
Award-winning soloist, international pianist and Purcell instrumental teacher, Florian Mitrea's latest CD of Beethoven Sonatas, entitled Beethoven – Unending, has arrived in the UK! The album, previously released at Christmas time in Romania, recently featured on Radio 3 and was promoted in an interview with Florian on the popular BBC In Tune programme. A recording of the latter is available here. On 28th April, Florian also performed pieces from Beethoven – Unending in concert as part of the Strand International Piano Series.
Further information about Beethoven – Unending is available here.

Nicholas Swett: Rhapsody in Blue Seminar
On Thursday 27th April, University of Cambridge PhD candidate Nicholas Swett visited Purcell to run a session with students dedicated to George Gershwin's Rhapsody in Blue. In the seminar, he discussed the piece's origins, its close relationship to tunes by popular songwriters like Irving Berlin, and the ways in which its identity has been transformed through a long and varied history of performance and arrangement. The session was further amplified by the playing of Benji (Year 13) and Thomas (Year 13), who performed some selected fragments of the piece.
Our thanks to Nicholas Swett for sharing his insight so freely, and to Benji and Thomas for their stellar performances. Also a special mention for Academic Music Teacher Alberto Martin Entrialgo for bringing this session to Purcell.

Concerts Week in Review
Highlights of the past week in the concerts department include a stunning lunchtime concert at St. John's Boxmoor, a performance of the Baroque Ensemble in concert here at Purcell, and four rousing lunchtime concerts.
Well done to all those who played so brilliantly this week: Francisca, Hana, Fiona, Theadora, Emma, Ivanna, Yu-Wei, Dmytro, Jessie, Djordje, Zaki, Dominic, Antonia, Danya, Oscar, Johnathan, Jessica, Ekaterina, Alana, Samuel, Rowena, Ms Baxter, Ms Alsey, Nathaniel, Daria, Alex, Aaron, Saule, Farrah, Clara, Julianna, Lucas and Ruby.

Alexis Ffrench Performs at Coronation Concert
Remember to tune in to the Coronation Concert at Windsor Castle on Saturday 7th May. The concert will be broadcast live on BBC One and BBC iPlayer from 8pm until 10pm and will feature, amongst many other artists, composer, pianist and alumnus Alexis Ffrench.
In a segment of the concert dedicated to conservation and the environment, Alexis Ffrench will play a short section of his piece Guiding Light during a video tape of King Charles speaking. He will also join Freya Ridings to perform another piece entitled Don't You Forget About Me for the Environmental spectacular part of the show.
ITV recently interviewed Alexis Ffrench about the forthcoming concert in which he commented that 'It's [the Coronation Concert] going to be such a celebratory moment, so I'm looking forward to it'. The interview is available in full below.
Alumnus Performs Locally at Vyne Theatre
Guitarist and alumnus Will Cashel will be performing with french guitarist Ben Bruant on Sunday 7th May at the Vyne Theatre in Berkhamsted. The duo, called 'Duo', will present an evening of 'Flamenco Fusion' – playing 'songs you know in ways you probably don't' in a style fusing flamenco, pop and classical music.
Tickets are available from the Vyne Theatre's box office here.

Forthcoming Events
In addition to those highlighted events below, please visit our new online Concerts and Events Guide here.
---
Wednesday 10 May – Middle School Concert
Time: 7.00pm
Venue: CP Hall, The Purcell School
Tickets: Fee admission. No booking necessary
---
Saturday 13 May – Chiltern Arts Festival: Eine Kleine Nachtmusik
Time: 7.30pm
Venue: St Mary's Church, Church Ave, Henley-on-Thames RG9 2BY, UK
Tickets: Available from the Chiltern Arts website here
Critically-acclaimed tenor James Gilchrist and BBC Young Musician of the Year 2022 Finalist Jaren Ziegler join a group of outstanding young musicians to perform a programme of music by Elgar, Walton, Woolrich and Britten, interspersed with new works by young composers from The Purcell School and culminating in an all-time favourite: Mozart's beautiful serenade, Eine Kleine Nachtmusik.
Performers:
James Gilchrist, tenor
Jaren Ziegler, viola
Chloe Harrison, horn
Paul Hoskins, conductor
Programme:
Elgar | Serenade for Strings
Britten | Serenade for Tenor, Horn and Strings
John Woolrich | Ulysses Awakes
Walton | Two Pieces from Henry V
Mozart | Eine Kleine Nachtmusik
---
Monday 22 May – Piano Department Concert
Time: 7.00pm
Venue: CP Hall, The Purcell School
Tickets: Fee admission. No booking necessary
This concert will feature students from the Piano Department who will shortly be touring Italy and Romania over half term.
---
Wednesday 24 May – Mitsu Piano Trio Concert
Time: 7.00pm
Venue: CP Hall, The Purcell School
Tickets: Fee admission. No booking necessary
The Mitsu Trio was formed in 2020 by British pianist Tyler Hay, Japanese cellist Akito Goto and Spanish violinist Laura Custodio Sabas. The members of the trio met at The Purcell School for Young Musicians and continued their studies in major UK conservatoires such as the Royal Northern College of Music, the Guildhall School of Music and Drama, the Royal Academy of Music and the Royal College of Music. Between them they have performed as chamber musicians and soloists in distinguished venues in the UK such as the Wigmore Hall, the Cadogan Hall, Queen Elisabeth Hall and St Martin's in the Field.