It has been another incredible week in the run up to Christmas here at The Purcell School!
ALUMNUS BEN HAVINDEN WILLIAMS
has just been appointed to the bass section of Welsh National Opera Orchestra.
JASMINE BLACKSHAW-BRITTON
won the Toddington Music Society's Young Musician of the Year contest.
FIRST STUDY SINGERS
attended a performance of The Marriage of Figaro given by the students on the Opera Course at the Royal College of Music. It took place in the Britten theatre in the college. It was a great opportunity for the singers to see one of the finest operas in the repertory and hear the standard achieved by singers at this level. The only disappointment was a lack of ice-cream during the interval!
NCO's LAST PERFORMANCE OF THE YEAR
takes place this Sunday evening at The Southbank Centre. The National Children's Orchestra, which includes a small number of Purcell students, will be performing along side renowned soloist Nicola Benedetti. More information on the event can be found here.
REMINDER FOR PARENTS AND GUARDIANS
The recent school photos are still available and orders can still be received in time for Christmas. To place an order, call Pret-a-Portrait on 0800 021 7626 or contact them via email at customerservice@pret-a-portrait.net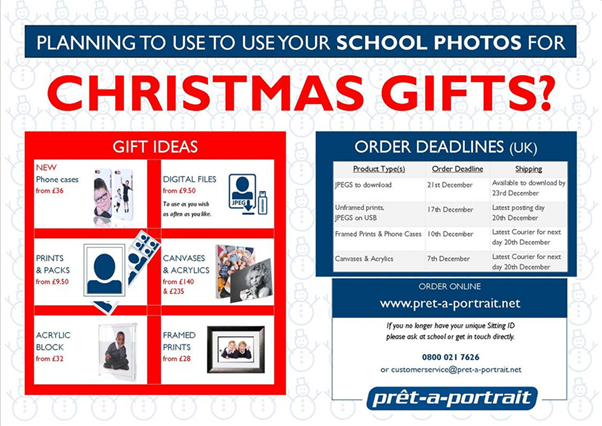 COMING UP
| Date and Time | Event | Location | Admission | Event Details |
| --- | --- | --- | --- | --- |
| Sunday 9th December, 18:30 | Carols by Candlelight, Purcell Chamber Choir | St James' Church, High Street, Bushey, Hertfordshire, WD23 1BD | Admission is free with a retiring collection | Join our Chamber Choir for an evening of Christmas Carols by candlelight in the beautiful setting of 700 year-old St James' Church in Bushey |
| Monday 10th December, 19:00 | Winter Jazz Concert | The Purcell School, Constance Pilkington Hall | Admission is free | Featuring the music of Tom Richards, arranger, musical director and saxophonist/keyboard player for Jamie Cullum. Tom has toured and recorded with Blur, Kylie Minogue, Gary Barlow, Robbie Williams and Michael Bublé |
| Friday 14th December, 15:00 | Christmas Concert | The Purcell School, Constance Pilkington Hall | Admission is free with a retiring collection | Join Purcell students and staff for a concert of joyful Christmas music followed by refreshments |