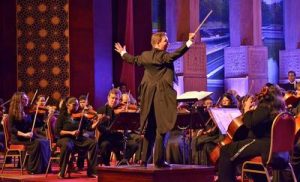 This year, the Commonwealth Heads of Government meeting will happen in London, and The Purcell School is marking this with a week of fantastic musical events in association with The Commonwealth Resounds!, Rotary London, The Royal Overseas League and the Royal Society of St. George.
We are very excited to announce the following events. More details to come soon!
COMMONWEALTH YOUNG MUSICIANS CONCERT, CHOGM 2018
St George's Church, Hanover Square, London, W1S 1FX
Thursday 19th April, 7:30pm
A spectacular evening of music by the Commonwealth Festival Choir and Orchestra, with additional items performed by members of the Divine Symphony Orchestra in Nigeria and the Purcell School's pupil-led ensemble, Philomel. Music includes songs written by young people about peace, based upon poetry and text from around the Commonwealth, music from Nigeria, and great works by British composers, such as Vaughan Williams' Tallis Fantasia and Elgar's Introduction and Allegro, representing the host country of CHOGM 2018.
Tickets are available to purchase here.
SOUND, IMAGE, MOVEMENT – THE COMMONWEALTH
St. James's, Piccadilly
Friday 20th April, 7:30pm
A dazzling concert of music, dance and film from all over the world, composed and directed by young people, featuring brilliant musicians from many different Commonwealth backgrounds. Featuring over 50 drummers of many different ages from around the Commonwealth, performing 'Rotary and the Commonwealth, Drumming for Peace', Celebrated Botswanan singer Lorraine Lionheart and her ensemble, Gayatri Nair, the outstanding young Anglo-Indian singer, as seen on ITV's The Voice, Billy Watman, Sky Arts Guitar Star Finalist, lively music inspired by Cyprus, Nigeria, the Caribbean, the South Pacific, The Purcell School SIM Orchestra, conducted by Alicija Herma, plus a whole lot more!
Tickets are available to purchase here.
---
Profits from both of the concerts will be used to help support hurricane victims in Antigua, Barbuda and Dominica to rebuild their homes and lives after the devastating Hurricane Irma last year.
The Commonwealth Resounds is enormously grateful to The Royal Society of St George and Rotary London for supporting these concerts.