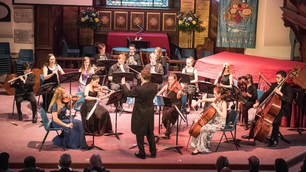 The Purcell School's Contemporary Ensemble and Chamber Orchestra were delighted to open the Deal Festival of Music and the Arts on Friday 30th June.
 
The beautiful early eighteenth-century parish church of St George was host to a remarkable celebration of the Viennese musical tradition. Conducted by Edward Longstaff, the programme artfully juxtaposed new and classical music, with an original piece by First Study composition student Lauren Marshall performed alongside such celebrated works of the Austrian classical period as Mozart's symphony no. 38, the 'Prague' and Haydn's trumpet concerto. The Contemporary Ensemble also delivered an engaging performance of Schoenberg's scintillating Chamber Symphony no. 1 to great effect and much applause.
 
The Purcell School's partnership with the Deal Festival took on a new dimension with this concert. Previous performances by the School had been special events which took place outside of the main programme. This sell-out event, however, provided the curtain-raiser for the 2017 festival and witnessed an audience of just under 500 people queuing in the streets of Deal to secure the best seats in the house.
 
As well as showcasing the talented players of The Purcell School, the concert celebrated the close links between the East Kent seaside town and neighbouring France (visible from Deal on a clear day). In place of an indisposed Festival President Alison Balsom OBE, the 18-year-old French trumpeter Lucienne Renaudin-Vary joined the Chamber Orchestra as soloist in the Haydn concerto and proved a superb addition. Deputy Head, Mr James Harding, who has pioneered the School's partnership with the Deal Festival, commented that 'the concert re-affirmed the depth and unity of young talent from the European continent and its outlying islands' and 'celebrated our School's profound love of the Viennese musical tradition'.