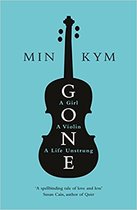 Gone: A Girl, A Violin, A Life Unstrung by Min Kym is a remarkable and original memoir which provides a fascinating insight into the unseen world of professional musicians and their instruments.In 2010, Min Kym's 1696 Stradivarius violin, valued at £1.2 million, was stolen while she and her partner ate a sandwich at London's Euston station. The media widely reported the incident, but the personal anguish surrounding the theft was left untold until now. Gone is Min Kym's unflinching and at times bruising account of this event, taking in her early childhood and education at The Purcell School, as well as the emotionally painful aftermath and eventual recovery of the Stradivarius.
At the age of six, Min Kym first picked up a violin. Eight weeks later she passed her Grade 4 exam, and at seven years old became the youngest-ever student at The Purcell School. She was a child prodigy, and that had an enormous impact on her traditional Korean family. Contrary to all Korean conventions, they moved to London to enable Min Kym to study music and pursue her dream, but with this came tremendous pressure and expectation.
Min Kym had an extraordinary talent and flourished in the specialist music environment. In her early teens she was performing with international orchestras and the recipient of many achievements and accolades. By the time her Stradivarius was stolen, an instrument she re-mortgaged her flat to buy, she was thought to be one of the most talented violinists in the world with an album and international tour planned.
Min Kym refers to the Stradivarius as her 'soulmate', and her memoir is about this most intense and unusual relationship . . . a love story. The loss of the violin she prized as 'the one' collapsed Min Kym's world, leaving her so bereft that she was unable to play another note. In a cruel twist, the recovery of the treasured violin did little to ease this, as in the intervening years Min Kym had claimed on the insurance, purchased a new violin and was unable to buy back the Stradivarius when the opportunity arose. However, this almost intangible void forces Min Kym to assess the isolation of her life as a prodigy, the dominating effect of the men in her life, her family and her music. In the stark clarifying light of her loss, she is ultimately able to rediscover herself.
For lovers of music and memoir, Gone: A Girl, A Violin, A Life Unstrung will have readers rushing to listen to the many works which Min Kym describes playing with such passion. Her passion for certain composers – Brahms, Beethoven, Bach, Porkofiev, Paganini and Mendelssohn – shines throughout, and there is an album tie-in entitled Gone: The Album (available on 31st March 2017) which further enriches her words with music.
Gone: A Girl, A Violin, A Life Unstrung by Min Kym is available now in hardback from all good book retailers.
Hardback Amazon
Hardback Waterstones