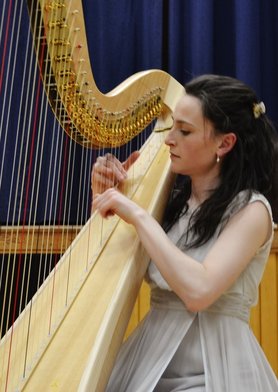 Pupils of The Purcell School were recently honoured by a visit from alumna Anne Denholm, Official Harpist to HRH The Prince of Wales, who delighted them with an inspiring recital and engaging question and answer session.
Anne, who first studied at The Purcell School in 2007 and was also a member of the Junior Department at the Royal Welsh College of Music and Drama, was integrally involved in the School's award winning outreach programme, IMPULSE, and became a String category finalist in the 2010 BBC Young Musician of the Year. She left The Purcell School to study music at Cambridge and then The Royal Academy of Music, and has since won numerous prizes and competitions, including the Cambridge University Wort Prize for excellence in music after achieving the highest final recital mark.
In July 2015, Anne was appointed Official Harpist to HRH The Prince of Wales. She is only the fifth artist to receive this honour since the title was reinstated in 2000.
​
The recital programme was as follows: Impromptu, Op. 86 by Fauré, Sonata in E major, K. 308 by Scarlatti, David of the White Rock, arranged by J. Thomas, Henshall's Three Welsh Dances, Brusentsev's Within and Variations on a theme of Paganini by Mchedelov.