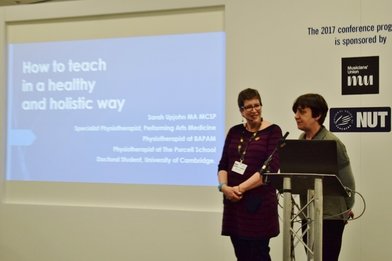 Diane Widdison (Musicians Union, National Organiser- Education and Training) introducing Sarah Upjohn.
Sarah Upjohn, the School Physiotherapist has been an active researcher in the field of Injury Prevention in Young Musicians since 2011.
The Purcell school is the only UK specialist music school to employ a physiotherapist to work within the school, and this provides opportunities for Sarah to communicate with the Music Heads of Departments, instrument teachers, parents and boarding house staff.
Sarah also works for the British Association of Performing Arts Medicine (BAPAM) both as a specialist physiotherapist and as a trainer, and in this role she is regularly asked to give talks about injury prevention and health promotion for musicians.
Through BAPAM, Sarah also gives talks for the Musicians Union, and the most recent of these was a 45 minute talk in The Rhinegold Theatre at the Music and Drama Education EXPO at Olympia on Thursday February 9th.
The talk was titled 'How to Teach in a Healthy and Holistic Way' and the key messages were about:
five risk factors for playing related Injuries
the physical demands of playing
the musical athlete
warm ups
top tips for sitting
stretches
five strategies for efficient practise.
​
This spring, Sarah is presenting aspects of her work at The Wolfson College Research Event, University of Cambridge, at The PhysioFirst National Conference, at the University of Nottingham Conference Centre and at the annual University of Cambridge Doctorate of Education Conference.