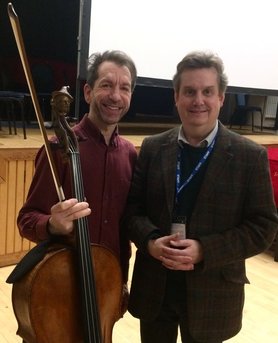 Robert Cohen and Charles Sewart, Head of Strings
Last night we were honoured to welcome cellist Robert Cohen for the second instalment in his three part masterclass series on the Bach Suites. Three pupils participated in the masterclass followed by a recital performance from Robert himself.
Since leaving The Purcell School for Guildhall School of Music, Robert has enjoyed an incredible career and has been invited to perform concertos world-wide by conductors such as Sir Simon Rattle.
Deputy Head teacher Mr Harding writes "There are precious occasions when, however much you know you admire the music of J.S. Bach as, perhaps, the greatest composer ever, you are struck afresh by the extraordinary genius of this composer and the perfection of his music. This can happen in two ways: one, by studying the score of a work; the other, by hearing a performance by a truly exceptional musician. That was my experience last night, listening to Robert Cohen here at The Purcell School play the third and fourth of Bach's cello suites. This was musicianship of astonishing power and imagination which reminded me of just how much depth and beauty there is in these extraordinary pieces. I can't wait to hear the final recital in the series on 8th March."