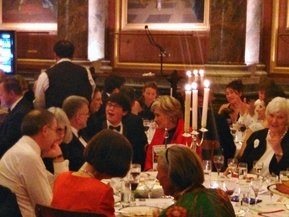 Headmaster Stephen Yeo, alumnus Martin James Bartlett with Dame Kiri Te Kanawa
The Purcell School held its fourth annual Gala Fundraising dinner last night in the prestigious Drapers' Hall in the City of London.
Two hundred guests and dignitaries attended and the evening was a great success. The guests enjoyed a three course dinner and a fabulous range of outstanding performances from Purcell pupils India Blackshaw-Britton, Daven Mitchinson, Heather Brooks, Didier Osindero, Bethany Caswell, Annie-May Page, Sam Every, Joe Parks, Cherry Ge, Sean Payne, Joachim Lim, Daniel Swani, Noah Max, Seth Tackaberry and Alice McCarthy.
We would like to extend a special thanks to our Guest of Honour and Patron of The Purcell School, Dame Kiri Te Kanawa DBE, for attending. Dame Kiri spoke at the event about how much The Purcell School and its ethos means to her. Arnau Brichs-Ponce, a sixth form composition student composed a beautiful piece for voice and piano in honour of Dame Kiri and the score was presented to her on the night.
A raffle of wonderful gifts took place, along with successful live and silent auctions featuring fine art, jewellery, holidays and experiences. All the funds raised on the night are used to support our Bursary Fund and Gala Scholars at the school, upholding our ethos that every child with musical talent should be able to attend the school irrespective of financial circumstance.
A grand total of the funds raised has not yet been finalised but watch this space..!
​The Development Department would like to extend their grateful thanks to all the guests in attendance last night and to those who were not able to attend but who supported the Gala evening in some way. In addition, we would like to thank all the pupils and volunteers who helped to ensure the event ran smoothly and was a great success.