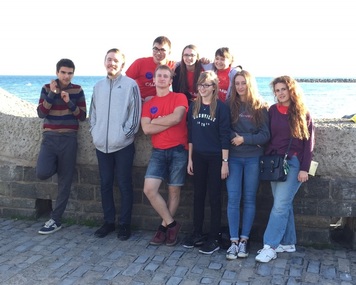 eOn the exeat weekend, a group of ten 6th formers made their way to Whitchurch Canonicorum in the heart of the Dorset countryside for the Outreach tour, hosted and arranged by ex-Purcellian Headmaster John Bain and his wife Cynthia.
An early start for IMPULSE on Friday morning for a 9:00 interactive assembly at Symondsbury Primary School. Pablo led the performance as he took the children on a journey through the different families of the orchestra which included demonstrations and pieces from the piccolo, flute, trumpet, percussion, piano, harp, violin, viola and cello. Afterwards, the older pupils spent the rest of the morning in workshops with IMPULSE. Here they worked with IMPULSE to create and perform to each other a jazz standard, authentic folk song and an improvised percussive piece. A quick turn around and IMPULSE were on the road to the beautiful costal town, Lyme Regis to repeat the morning's activities for St Michael's School. This time the group's cellist, Ibai, led the assembly and group warm ups before moving on to the workshops. One IMPULSE student said that this experience was 'an amazing opportunity to have the privilege to work with and inspired young children who don't usually have access to music.' After a busy day of Outreach, all were looking forward to strolling along the beach in the sunshine and grabbing some ice creams. Unfortunately the seagulls were also happy to grab Thomas's ice cream!
With fantastically virtuosic solo pieces and 3 world premieres of new compositions programmed for IMPULSE's Saturday evening concert, Saturday morning and afternoon were filled with intense rehearsals. At 18:30 in Whitchurch Canonicorum Church, St Candida and Holy Cross, Hambel took to the stage to present the IMPULSE Community Concert to a full house. The programme, organised by Tom and Annie-May, was hugely varied from Ibai's rendition of Bach's cello suite No. 5 to Evie's jazzy Gershwin/Heifetz numbers. Arnau conducted his own arrangement of Catalan piano pieces for string quartet and harp as well as the finale piece, an original composition by Callum inspired by a Japanese Civil War and especially written for all the members of the IMPULSE team.
​
Every person on the IMPULSE team was fantastic and the performances were loved by all – well done!