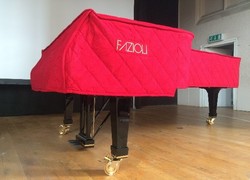 Despite being in the school holidays, Wednesday 19th August was a very exciting day, as we took delivery of our brand new Fazioli F228 piano.

We are immensely grateful to the support of the Garfield Weston Foundation whose generous funding of £70,000 contributed significantly towards the cost of this beautiful new instrument, as well as a donation from the family of alumnus Jon Bae.

The Fazioli factory only produce 125 pianos each year, so we have had to wait some time for our piano.  Every Fazioli has a unique personality and so choosing the instrument is a very special experience.  For the Purcell School it fell to Mr Fong (Head of Keyboard) to travel to the Fazioli factory in Sacile to choose the piano with a personality that he felt would most suit the needs of the School.  The process was quite challenging and took most of a day, as Mr Fong tested three pianos and considered their performance from the perspective of the repertoire, the performer and the audience.

Fortunately expert advice was at hand, with both Terry Lewis, Managing Director of Jaques Samuel Pianos in London who are the UK's sole supplier of Fazioli Pianos and Paolo Fazioli, the company's founder who in 1981 set out on his journey to build the best piano possible.

Mr Fong was also delighted to be joined by Federico Colli, winner of the Leeds International Piano Competition in 2012, who also helped to put the pianos through their paces. With such an illustrious team it was inevitable that a unanimous decision was eventually reached.

We are delighted that Federico Colli has accepted Mr Fong's invitation to visit The Purcell School this academic year to give a masterclass for our pupils.  Now that the piano has arrived we are looking forward to a launch event in the autumn term.  More details will follow.