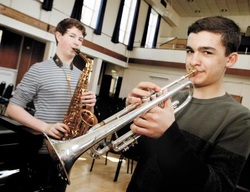 Photo © Watford Observer
Two Purcell pupils have reached the finals of BBC Young Musician's brand new Jazz Award: Jake Labazzi (Jazz trumpet) and Sean Payne (Jazz saxophone).

This is the first year that BBC Young Musician have added a Jazz Award alongside the established classical music format. After two rounds of auditions, the panel of judges have chosen five young jazz musicians to perform at the Final.

The Final will be on 8 March 2014 at the Royal Welsh College of Music and Drama. The finalists will be playing with the BBC Young Musician house rhythm section of piano, bass and drums and the adjudicators will be looking at their technique, improvisation, interpretation and stylistic awareness as well as interaction with the band.

Jake and Sean are both supported by Government Music and Dance Scheme Scholarships at The Purcell School. Jake joined in 2007 and he studies trumpet with Tony Cross, Jazz trumpet with Freddie Gavita and piano with David Gordon. Sean Joined the School in 2013, and is taught Jazz sax by Carlos Lopez-Real, Jazz Piano with Simon Colam and Jazz Percussion with Darren Altman.