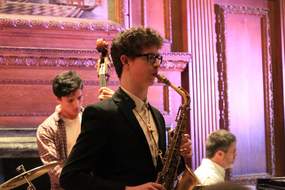 A very big well done to Sean Payne (Year 11) who played a warm up set for our Head of Jazz, Simon Allen's gig at Bracknell Jazz in South Hill Park Arts centre on Friday 11 March.  He also shared the last set with Simon where they played all the numbers together, accompanied by the house rhythm section.
Sean is supported by a Government Music and Dance Scheme Scholarship at The Purcell School.  He Joined the School in 2013, and learns Jazz sax and piano with Carlos Lopez-Real, Kit Downes & Tom Challenger.
We are all looking forward to this term's Spring Jazz & Big Band Concert on Monday 21 March at 7:00pm in the Constance Pilkington Hall.  Do come along and hear the sensational jazz department in action!  Admission is free.