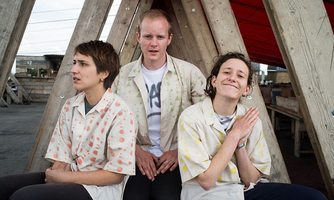 Micachu And The Shapes: Levi with bandmates Raisa Khan and Marc Pell. Photograph: Stephanie Sian Smith/The Guide
The Guardian Guide on Saturday featured Purcell School alumna,
Mica Levi
and her band 
Micachu and the Shapes
whose third album, 'Good, Sad, Happy, Bad' came out on September 11 on Rough Trade. 
Read the article



here.

Mica was Artist-in-Residence at the Southbank Centre in 2010.  She composed the soundtrack to Under the Skin, a film directed by Jonathan Glazer and starring Scarlett Johansson, released in 2014.  She won Best Composer for this score at the 2014 European Film Awards, and tied with Jonny Greenwood for Best Music/Score at the Los Angeles Film Critics Awards. She was also nominated for the 2015 BAFTA Award for Best Film Music.

In 2014, The Purcell School ran 'Shapes and Satellites', a project with Mica, young composers and our IMPULSE Outreach team with funding from the PRS Foundation.