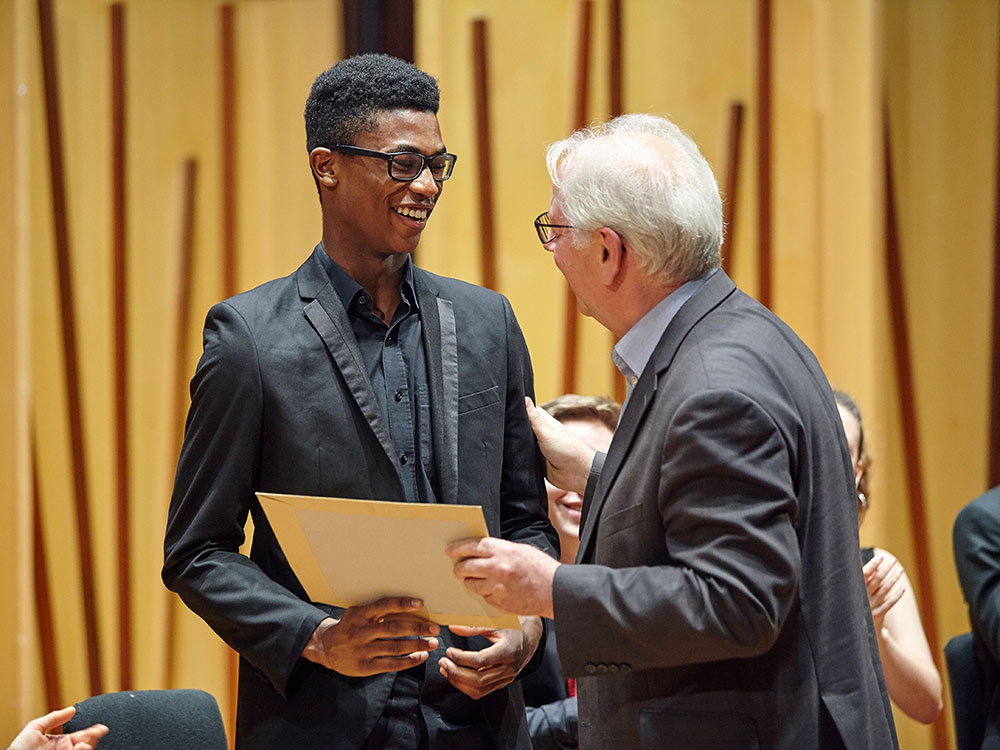 The final of Junior Guildhall's most prestigious award, the Lutine Prize, which showcases young talent, was held on Saturday 21 May at 2pm in the Silk Street Music Hall. First place was awarded to 17 year old violinist
Didier Osindero
, a pupil at The Purcell School.
Didier's winning recital was a programme of JS Bach's Sonata No. 1 in G minor and Britten's Suite op.6.
The Lutine Prize is Junior Guildhall's equivalent of the senior school's annual Gold Medal competition, with six students selected from the preliminary round to perform in the final. The finalists are required to perform a 20 minute solo recital; the winner of the first prize is given the opportunity to perform a concerto with one of the Junior Guildhall ensembles in addition to a cash award.
The adjudicators this year were Malcolm Singer, Director of Music at the Yehudi Menuhin School and a professor of composition at the Guildhall School, and Director of Music at Chetham's School of Music, Stephen Threlfall.
The Lutine Prize was inaugurated in 1982 and Didier joins a long line of winners, many of whom have enjoyed professional music careers: Thomas Adès, Thomas Poster and Annabel Thwaite.
Didier started playing the violin when he was 5 years old and currently studies with Felicity Lipman at The Purcell School and Junior Guildhall. Didier was awarded first prize at the Charlton House Young Artists Competition for Junior Guildhall students in November 2014. In April 2016, he was selected by The Purcell School to play at the Wigmore Hall in September 2016. Didier is a keen chamber musician and has attended courses at MusicWorks, Pro Corda and the Maggini Chamber Course. He thoroughly enjoys being immersed in the music environment such courses offer. His Junior Guildhall quartet thrice won the annual Pro Corda Chamber Music Festival. Didier is the current recipient of Junior Guildhall's Violin Scholarship. Didier's place at The Purcell School is supported by a Government Music and Dance Scheme scholarship.
Didier was interviewed by Sean Rafferty on BBC Radio 3's In Tune programme earlier this week, and you can listen again here.