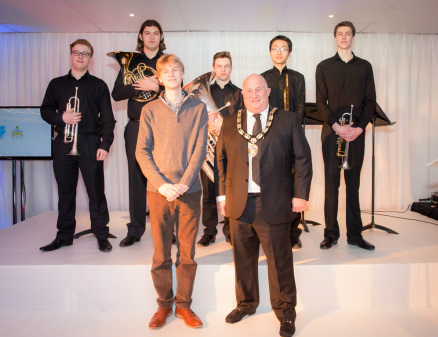 The School was invited to contribute to a special award ceremony on Saturday night as part of Hertsmere council's annual Civic Dinner and 40th anniversary celebrations.
Hosted by the serving mayor, Councillor Paul Morris OBE, the event was an opportunity to reward local volunteers and showcase local talent, and was attended by local councillors, dignitaries and community members.

Pianist, Emily Brown played and sang her own jazz songs as the guests took their seats in the hall, and our brass quintet performed before the meal was served. (Trumpets: Chris Bowman, Tom Gardner; Horn: Henry Wright; Trombone: Kevin Huang; Tuba: Andrew Atkinson Dalziel)

This year, the evening was a special celebration to mark the council's 40th anniversary next month. In recognition of this, the School commissioned sixth form composer Nathaniel Coxon to write a short celebratory fanfare for brass quintet, which was performed and presented as a gift to Hertsmere. Nathaniel took inspiration from the Hertsmere motto 'Do Well and Fear Not'. You'll be able to hear his piece on the Hertsmere Borough website soon!