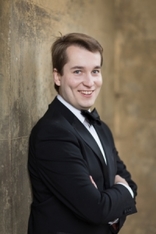 Purcell alumnus,
Glen Dempsey
, currently studying music at Cambridge, received a First Class result in his examinations this year, and will be made Scholar of St. John's College for the coming academic year.  In addition, Glen has been awarded a Wright Prize, conferred on those who rank in the top third of First Class results, along with a McAulay Scholarship.
Born in Suffolk in 1994, Glen's formative musical experiences were centred around the English choral tradition – as a chorister in St Mary's, Bury St Edmunds and later in the choirs of St Edmundsbury Cathedral. Organ lessons with Michael Nicholas led to his being awarded a scholarship to study at The Purcell School. During this time Glen performed in all the major concert halls of London as a soloist and chamber musician on the organ and piano, and also conducted at the Wigmore Hall.
​
In 2013 Glen was appointed Organ Scholar at St George's Chapel, Windsor Castle. During the academic year 2014/15 he resided in the Netherlands and was the Assistant Organist of St Nicholas's Basilica, Amsterdam. During this time he studied with Jacques van Oortmerssen.  Glen became Associate Organ Student at St John's College, Cambridge in October 2015, and Organ Scholar for the coming academic year 16/17.