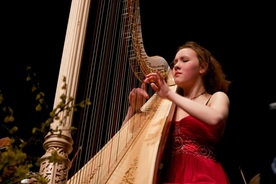 Juliana Myslov, Dutch Harp Festival 2014
We are very proud that two finalists in the prestigious Royal Overseas League Annual Music Competition are Purcell School alumni.  Harpist, Juliana Myslov was a pupil of Daphne Boden at Purcell from 2005-2014 and currently studies at the Royal College of Music; flautist, Charlotte Ashton was a pupil of Anna Pope at the School from 2008-2011, before continuing her studies at the Royal Academy of Music.

The final will take place on Monday 1st June at 7:00pm at the Queen Elizabeth Hall, Southbank Centre.  Tickets are £15 and Friends of ROSL ARTS £12. 

The Winners of the main solo awards Charlotte Ashton flute; Michael Buchanan trombone; Soraya Mafi soprano; Juliana Myslov harp; and Alexander Soares piano compete for the Competition Gold Medal and £10,000 First Prize. Gavin Henderson CBE chairs the jury of eminent musicians, most of whom are themselves former ROSL prizewinners.  The Awards will be presented by Sir Richard Stilgoe.

The evening will also include performances by the winners of the two ROSL Ensemble Prizes of £10,000 each: The Jackson/Beilby Duo and Ferio Saxophone Quartet.