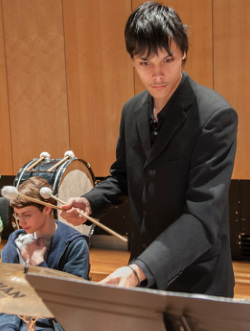 Patriks onstage at the QEH, March 2014
Patriks Skabardis (year 10) has won First Prize in the 16 and Under category of the Junior Guildhall National Tuned Percussion Competition 2014. The high profile competition, run in association with Southern Percussion, has three categories – 18 and under, 16 and under, and 14 and under.
All prize winners will be taking part in a workshop and performance on  27th April at the Royal Opera House, Covent Garden.
Patriks joined The Purcell School in September 2013, where he studies percussion with Kevin Hathway, marimba with Daniella Ganeva and piano with Alla Kravchenko. His studies at Purcell are supported by a scholarship from the Government's Music and Dance Scheme.
Patriks will be performing the Ney Rosauro Marimba Concerto with the School Sinfonia on Wednesday 7th May at The Purcell School.