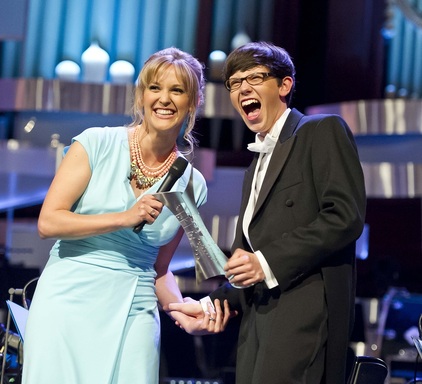 Photo: Alan Peebles/BBC
Purcell School pupil, Martin James Bartlett (aged 17) has won this year's BBC Young Musician. Following in the footsteps of fellow Purcellian Lara Melda, who won in 2010, Martin took the coveted title with a concerto performance of breathtaking quality and virtuosity.

Martin beat over 450 hopeful young musicians, winning the keyboard class with performances of music by Bach, Liszt and Barber, and then being chosen from five semi-finalists to play in the concerto final against Elliott Gaston-Ross (percussion) and Sophie Westbrooke (recorder).  Martin performed Rachmaninov's Variations on a Theme by Paganini with the BBC Scottish Symphony Orchestra conducted by Kirill Karabits.  His performance was broadcast live on BBC4 and BBC Radio 3.

Martin has been a pupil at The Purcell School since 2010 where he learns the piano with Emily Jeffrey.  His place at the School is funded by the Government's Music and Dance Scheme.  Next year, Martin has chosen to continue his piano studies at the Royal College of Music, where he has been awarded a four-year Foundation Scholarship.