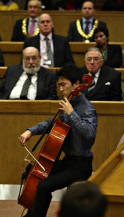 Purcell pupils performed music as part of a service to mark Holocaust Memorial Day on Monday 28 January.

The mayor of Hertsmere, Councillor Pat Strack, was joined by local religious leaders and politicians for the service. Pupils from schools across the borough of Hertsmere read poems, statements of commitment and lit memorial candles for the victims of the Holocaust, as well as humanitarian crises in Darfur, Bosnia and Rwanda.

Holocaust Memorial Day is commemorated internationally on January 27 each year, the anniversary of the day in 1945 on which the Soviet Army liberated the largest Nazi concentration camp, Auschwitz-Birkenau.