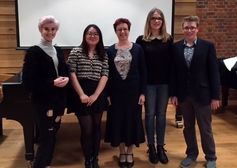 On Monday 27th April, four of our sixth form singers took part in a masterclass given by the soprano, Sarah Leonard. This masterclass was part of the Association of English Singers and Speakers Junior Recital First Prize won by Georgia Odette last Autumn.

Seo Jin Lee sang 'Gretchen am Spinnrade' by Schubert, Stephanie Edwards sang 'Ach Ich fuhls' from The Magic Flute by Mozart, Georgia Odette sang 'Voi che sapete' from the Marriage of Figaro by Mozart and Jack Whiting sang 'Take a Pair of Sparkling Eyes' from The Gondoliers by Gilbert & Sullivan.

The singers received much excellent constructive criticism and advice, the whole occasion being conducted in a spirit of positivity and mutual support.

Sarah Leonard is one of Britain's most respected and versatile sopranos. She was born in Winchester and studied at the Guildhall School of Music and Drama, London. She has a wide repertoire with a particular interest in contemporary music and has appeared throughout the world in major concert halls, opera houses and festivals.
All four singers are taught by Tom Marandola at The Purcell School.