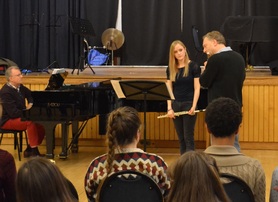 We were delighted to welcome Robert Winn to the School today to give a masterclass.

Robert was Principal Flute of the Royal Philharmonic Orchestra from 1985 to 1997. He was Professor of Flute at the Franz Liszt Academy in Weimar, Germany and since 1999 has been Professor of Flute at the Koln Hochschule fur Musik, Germany. In the last seven years more than 25 of his students have gained places in major orchestras all over the world. He has published several technical study books for the flute.

Robert will be giving a recital with pianist Tim Carey tomorrow evening at 7:00pm in the Constance Pilkington Hall.
Admission is free.

With thanks to Just Flutes of London for supporting this event.