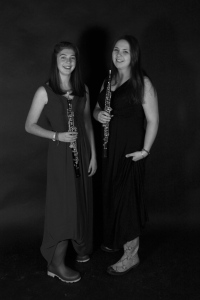 Folk tunes, wellies and two countrified oboists… Yr Obo Teithio (meaning 'The Travelling Oboes' in Welsh) are a student duo studying at The Purcell School. Elen Morgan-Williams and Caitlin Heathcote have just embarked on a year-long series of performances across Great Britain, dedicated to the late Jennifer Caws.
From January to August 2015, they will be putting on around 15 concerts, performing an exciting mix of folk, contemporary and classical music. All concerts will have a free entry! More information can be found on their
website.
Both girls are taught by Melanie Ragge at The Purcell School, where they hold Scholarships funded by the Government's Music and Dance Scheme.
The Duo are extremely grateful that a benefactor has provided the funding they need for the tour, but with Howarth of London, they are hoping to raise enough money to buy some Howarth junior oboes to give for loan to children who can't afford to buy their own instruments. You can make a donation via their fundraising page.