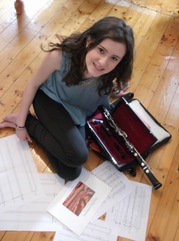 Purcell pupil,
Lucinda Rimmer
(Year 10) is one of five talented young composers to win the 2013 BBC Proms Inspire Young Composers' Competition.
Lucinda's piece Sunset Dance at Menkaura was inspired by Menkaura, the smallest pyramid in Egypt. She used instrumentation to reflect traditional Egyptian music, with a piano drone, flute, the reedy sound of the oboe and cymbals.

The winning works will be performed by the Aurora Orchestra at the Young Composers' Concert at the Royal College of Music on Wednesday 7th August, conducted by Nicholas Collon and recorded for broadcast on BBC Radio 3 on Friday 9 August.

Chaired by Fraser Trainer, the entries were judged by a panel comprising composers and music industry professionals including Andrew Kurowski, Stuart MacRae, Anna Meredith and Martin Suckling who looked for music that was original, unique, and inspiring.

Lucinda joined the School in September 2012 on a scholarship funded by the Government's Music and Dance Scheme. She studies oboe with Melanie Ragge and harpsichord with Clare Sutherland.