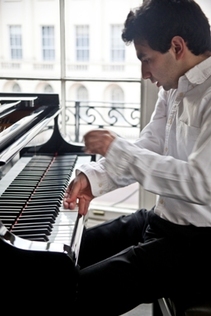 Purcell School alumnus, Jordanian-born pianist Karim Said, has given a critically acclaimed performance as part of the Southbank's The Rest is Noise festival.
Music Critic for The Independent, Michael Church, wrote:
"The festival's second concert was a coolly intellectual event in which Karim Said presented and played piano music by Schoenberg, Debussy, Janacek, and Berg, whose first sonata gave a vivid sense of territory being explored for the first time. But the real discovery was Said himself, who wrong-footed everyone's expectations by playing a lovely Handel arrangement as an encore. A protégé of Daniel Barenboim, this young Palestinian is still studying at the Royal Academy, but he has the skills of a born communicator. The next Barenboim?"


The full article can be viewed here:
http://ow.ly/h1cjU
After leaving the Purcell School of Music in 2007, Karim was awarded a full Scholarship to study with Prof. Tatiana Sarkissova at the Royal Academy of Music , and hopes to graduate in 2013 with a Masters degree. He was the subject of "Karim's Journey", an hour long documentary film by Christopher Nupen, shown internationally and on BBC4. He is the recipient of over fifteen prizes and awards, including the Margaret Kitchin Scholarship Award and is currently supported by the Peter Andry Scholarship. He gave his Barbican debut aged twenty with the English Chamber Orchestra and Sir Colin Davis. A year later, his BBC Proms performance of Berg's Chamber Concerto with Daniel Barenboim and the West Eastern Divan led to debuts at the Berlin Philharmonic, Vienna's Musikverein, Salzburg's Mozarteum and future engagements, including recitals at the Southbank Centre in 2013. He is performing two other piano recitals as part of The Rest Is Noise festival at the Southbank Centre on 3 March and 9 June 2013.

Karim currently teaches composition at The Purcell School.