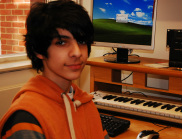 Purcell School pupil and composer, Alan Mofti (Y11), has been commissioned to write a short spectacular fanfare for the arrival of Her Majesty The Queen at Commonwealth Observance Day in Westminster Abbey on Monday 11 March 2013.

Alan's fanfare will be played by talented young brass players, including some Purcell School pupils. It will be performed after the procession of Commonwealth Flags, just as the Queen steps out of her car and walks towards the entrance of the Abbey.

Every year on the second Monday in March, 54 countries join together in celebration of the links they share as members of one diverse and dynamic global family – the modern Commonwealth.

In the UK, one way in which this special day is celebrated is with a unique event in London's Westminster Abbey coordinated by the Royal Commonwealth Society. The theme for this event is 'Opportunity through Enterprise'. Through a mix of world music, dance and personal testimonies, the event will celebrate economic innovation throughout the Commonwealth and our shared commitment towards youth, social and sustainable enterprise.

The UK's largest multi-faith celebration, the Commonwealth Day Observance is attended by Her Majesty The Queen, the Prime Minister, High Commissioners, up to 200 other VIPs and more than 1,000 schoolchildren.

16 year-old Alan isn't too daunted by the prospect, having already had a composition of his played at the Royal Festival Hall in 2012. He comments: 'I'm just very excited about this opportunity – it's very high profile and I hope people enjoy my music!'

Alan joined The Purcell School in 2007 on a Government Music and Dance Scheme Scholarship and studies composition with Joseph Phibbs.