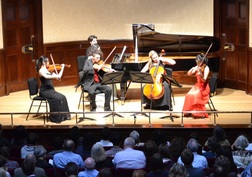 Purcell School pupils gave a fantastic concert to a big audience at Wigmore Hall on Sunday evening.

The programme included vocal motets by Farrant, Victoria, Tallis and Duruflé, movements from Ravel's Piano Trio, String Quintets by Gernsheim and Schumann and Poulenc Violin Sonata. Also, Ligeti's Six Bagatelles for Wind Quintet, Koppel Toccata for Vibraphone and Marimba and works for flute by Franck and Ian Clarke.

The event was a fantastic culmination of the work put in by pupils and teachers throughout the year in coached chamber music groups – and this was just a small selection of the chamber music at the school – well done to all!