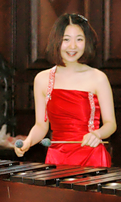 Sixth Form pupil Hyungi Lee was one of nine semi-finalists in the Universal Marimba Competition held in July in Belgium. There is no age limit for this worldwide competition and the jury comprised international soloists and professors.

Hyungi joined The Purcell School in February 2011, and holds a Government Scholarship under the Music and Dance Scheme. Her percussion teacher is Daniella Ganeva and she studies piano with Alla Kravchenko.

She reached the category finals of the 2012 BBC Young Musician of the Year Competition and was awarded the Walter Todd Bursary for her performance.