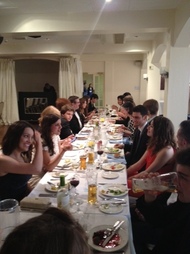 Leavers' Dinner, July 2013
This year's Purcell Leavers were celebrating yesterday after securing some excellent grades in their A-level results. The percentage of those scoring the highest two grades (A* and A) rose from 26% to 39%, with an even greater increase in the proportion of those scoring a B grade or higher, which rose from 52% to nearly 70%.
Seven out of the 41 students achieved three A or A* grades, and two students secured their places at Oxford University for next year. Almost every one of the leavers will be moving on to their chosen place of study next year, many of them to the prestigious Royal Academy of Music or Royal College of Music in London.
Headmaster David Thomas commented, 'I am delighted to congratulate this year's leavers on their tremendous results. I know how hard they have worked, and these results are a fair reward for their efforts. In many cases they have exceeded the grades they needed, which is down to their motivation and the hard work of their teachers. I wish them all every success as they move on to the next exciting chapter of their lives."