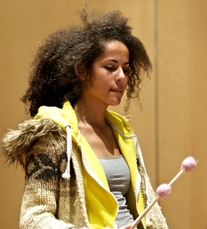 Jasmine Kayser (UVI) has won a full scholarship to Berklee School of Music, Boston, USA, for 2014.

Jasmine joined The Purcell School in 2012, and currently studies jazz drum kit with Darren Altman, jazz piano with Simon Colam and percussion with Daniella Ganeva. Her studies are supported by a scholarship from the Government's Music and Dance Scheme.

She is a member of the National Youth Jazz Collective, National Youth Jazz Orchestra and Julian Joseph Jazz Academy and has performed at festivals in Bath, Cornwall and Sturminster. She has also performed at the 606 Club with pianist Julian Joseph and bassist Mark Hodgins.