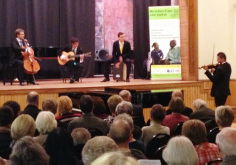 Pupils from The Purcell School gave a concert to a packed house on Wednesday 27th February, at a concert in aid of The Watford Peace Hospice.
Guests at this third annual Peace Classics Concert helped raise more than £4,000 for the Hospice.
Mayor of Watford Dorothy Thornhill and mayor of Hertsmere councillor Pat Struck were among the audience of 200.
Music ranged from Chopin and Bach to an up tempo jazz set and some student-written pieces.
Roger Gagan, chief executive of
Watford Chamber of Commerce
and a member of the group that organised the event, said:
"The young musicians were brilliant. There was something for everyone, from serious classical music to jazz."
That sentiment was echoed by Frazer Ansell, Editorial Manager of the Watford Observer:
"We really are lucky to have such a musical gem in our midst. This is the third year of the concert and it just gets better and better. The skill of the young musicians is quite frankly astonishing. It is a privilege for the newspaper to be involved in such a prestigious event, with some of the world's finest young musicians and benefiting the wonderful Peace Hospice"
The evening was sponsored by the Blue Check restaurant which provided wine and fruit juice for the pre-concert reception and during the interval which included hot food prepared and served by catering students from
West Herts College
.