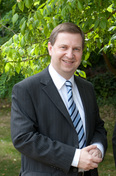 The Purcell School welcomed a new Headmaster at the beginning of term.

David Thomas took over last week as head of the prestigious Purcell School. The school is the oldest specialist music school in the UK, celebrating its 50th anniversary this year, and can boast many former pupils who are now famous musicians.

Mr Thomas said, "I am delighted to be taking over the Purcell School at this time, and leading it into its second half-century. I have been made to feel very welcome at the school, and am looking forward to helping it to develop in the years ahead."

Mr Thomas comes to The Purcell after 11 years as Head of Reigate Grammar School, an independent school of 1200 pupils in Surrey. He was educated at Oxford University and has taught at several well-known independent schools across the UK.

Highlights during the coming term will include concerts at the Wigmore Hall in London, and a matinée concert at the Watford Colosseum on Sunday 4th November at 3.00pm, with a programme which will include Bizet's Carmen Suite and Mendelssohn's Italian Symphony. Tickets are available from the Watford Colosseum (0845 0753993).