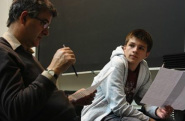 Composer William Gough's (Yr11) music is resounding throughout the Royal Opera House in Covent Garden to summon audiences back into the auditorium for each Act of Wagner's Götterdämmerung. 

William was one of ten young composers aged between 11 to 16 to win this year's Royal Opera House Fanfare Contest. This is the third year in a row that a student from The Purcell School has been selected as one of the ten finalists.

School children were asked to compose an original 30-second fanfare and the winning compositions were selected by a panel of Royal Opera House professionals including Sir Antonio Pappano, Music Director of the Royal Opera and Barry Wordsworth, Music Director of the Royal Ballet.

William and the nine other young composers joined the Orchestra of the Royal Opera House, conducted by Sir Antonio Pappano in May 2012, to rehearse and record the fanfares.