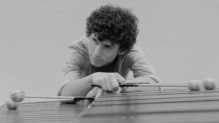 Hristo Dushev,
Bulgarian marimba maestro and ex-Purcellian, is a 2012 Royal College of Music Concerto Competition prizewinner. 
Currently in his third year at the RCM, he has won the opportunity to perform Emmauel Sejourne's Concerto for Marimba and Strings with the RCM String Band.  The concert is on 21 November, conducted by Mark Messenger in the Amaryllis Fleming Concert Hall, RCM. 
http://www.rcm.ac.uk/events/listings/details/?id=6724
Well done Hristo!