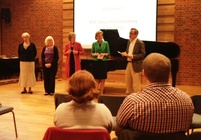 On Sunday, the school hosted the certificate presentation for the 2011/12 Piano Teachers' Course (Cert PTC) students.   Accredited by Reading University, the PTC is a professional development course for piano teachers held at The Purcell School. 
The school is delighted to be hosting the PTC for the forthcoming academic year.  Please see
www.pianoteacherscourse.co.uk
for further details.