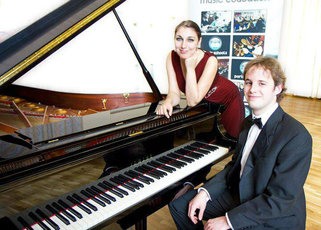 It is with the deepest of sympathy that we pay tribute to alumnus James Redfern who sadly passed away earlier this month.
James was a truly gifted pianist, and during his time at The Purcell School he won first prize in the Weimer Liszt International Piano Competition for Young Pianists. He studied with instrumental teacher Tessa Nicholson who recalls her student with fondness: 'He was a marvellous young pianist with a strong intellect, and those who knew him will remember his outstanding playing, particularly of Beethoven and the virtuoso repertoire. He treated his fellow musicians with respect and kindness, and my heart goes out to his parents, who are understandably devastated.​'
James continued his studies with Tessa at the Royal Academy of Music, and then under the tutorship of Paul Badura-Skoda, who described him as a 'born Beethoven player' and an 'an outstanding young pianist'.
Most recently James was appointed Director of Music at 'Music Box' Music School in Dubai, after having toured the world performing original masterworks for four hands with his wife, pianist Laura Pauna.
James performed at many prestigious venues including the Purcell Room, South Bank Centre, St. Martin-in-the-Fields (London), the Bucharest Festival (Romania), the Deutsche National Theater and Stadskapelle Weimar (Germany) and ZK Matthews Hall (Pretoria).
It is likely that a memorial service will be held in the UK at a later date. We will post all relevant information as and when it becomes available.