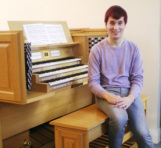 Our congratulations go to Upper Sixth pupil, Glen Dempsey, who has been appointed Organ Scholar at the College and Chapel of St George, Windsor Castle for the year 2013/14.

This highly sought after position provides an organ student with high standards of training in a collegiate environment; to develop particular skills in service playing and accompanying, solo repertoire and choir training.

Glen will be living on site at Windsor Castle for the year, working with a team of three organists.  He will have regular opportunities to play for services and to be fully involved in the life of the Music Department of St George's Chapel, under the direction of Timothy Byram-Wigfield the Director of Music.